Custom Laser Cut Jewelry Tags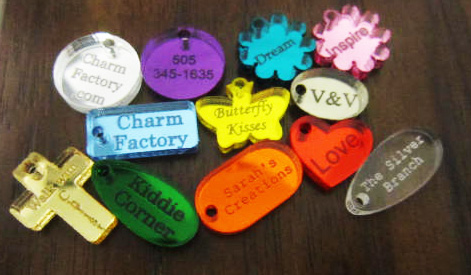 MAKE YOUR MARK
Imagine what it would be like if you could easily add your name, signature or logo to your personal creations. Custom jewelry tags add a special touch to brand your work and add contact information for future sales (even after the packaging has been discarded). Your customers then do more selling for you by wearing the tag on their bracelet, necklace, purse, cellphone and more!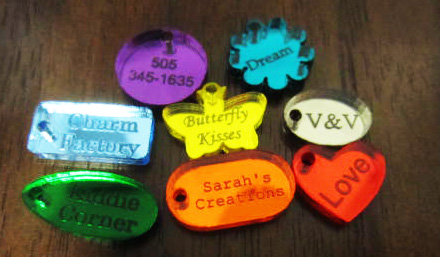 Charm Factory's jewelry tags are custom laser cut, not stamped, so the process is quick and easy. You probably already know that stamping your own tags can be an arduous process with expensive set up fees, long wait times for a quote and a die, and then you have to do all the hammering yourself on an anvil. When you order, you will receive a digital proof of the charm via email, with your information on the shape that you chose.
On approval, we will cut your tags for shipment in about one week. It's that easy!
With laser cut jewelry tags, you bypass all of the hassles and set up costs of stamping, receive a product with much finer detail, and we do all the work for you within a few days! Your name, business name, email address, website, signature, logo or almost any other image is reproduced just for you – just like you've pictured it. The work is all done here in our factory in Albuquerque, New Mexico.
"These tags are amazing- well made and so adorable -will really look great on your jewelry. Ordering more. Thank you" -Gianna
Are you beginning to see how easy it could be with custom laser cut tags? Order quickly online using the inclusive pricing displayed for a minimum of 50 tags. There are no quotes, set up fees or additional costs for engraving text. Just add your font selection, detailed text instructions or upload your image directly from the tag you wish to order. There is an additional onetime $40.00 set up fee for logos and other images. We will be happy to answer any questions and help you make your mark.
FOLLOW THESE EASY STEPS TO ORDER:

Choose Your Font

By default, we use a Ariel font that is very easy to read. Click through below to see the other fonts that we offer. (We will let you know if we don't think your choice will be readable with your text and tag selections.)
These are the only fonts available for text engraving.
Enter your engraving instructions and choose your font from the drop down box provided on each tag selection page.

Images and Logos

The other option is to upload an image for engraving (which may use any fonts or designs that you wish).
Add the $40.00 Logo Setup Fee for Engraving to your cart when you select your tags below. This is a required fee any time that you do not use simple text with one of the fonts we offer above. Pay it one time, on your first order that uses this image. (This fee will cover most logos. If yours does not fit within the normal bounds, we will contact you before processing.)
Upload any logos, your signature or other images, directly from your selected tag page. A vector based file created in Adobe Illustrator, Freehand or Corel Draw is ideal, and your logo will be processed faster and look cleaner with these file formats. An ai, eps or plt file is preferred. File types like pdf, tif, jpg, gif or psd will also work. A Word document is not acceptable.

Tag Selection and Pricing

Click on an image below to see pricing on specific tags with quantity discounts. All prices displayed include text engraving on one side of the tag. The Logo Setup Fee is a required fee any time that you do not use simple text with one of the fonts we offer above. Just add the tags to your cart, checkout, and your Laser cut tags are on the way within a few days! (Make sure to check over your engraving instructions and font choice. Note your instructions exactly as you would like them to appear on the tag. ie. all caps, only capitalize first letter, separate on more than one line etc.)
The minimum order is 50 tags.

Proof

We will email a digital proof of the tag before production begins (not a physical sample).

More Information

Laser Cut orders are not refundable or exchangeable, so be sure that you are happy with the tag size and font that you select.
Generally orders take a week to manufacture the tags once the proof has been approved. A digital proof is provided.
Click on any of the tag photos to see measurements in inches.
Tags do not come with jump rings. These are available in our Jewelry Components department.
It is your responsibility to obtain permissions for any copyrighted aspects of your tags. You agree that you are responsible for any copyright infringements and any fines or penalties that may result. Use of designs that infringe on the intellectual property rights of others is prohibited.